OUR HISTORY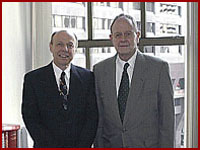 The origin of our company can be traced back to its founding partner
and namesake, Charles W. O'Conor, who began the practice of delivering superior quality advisory services in mergers, acquisitions, and divestitures as Charles W. O'Conor and Associates in 1965.
Charlie O'Conor originally focused on cross-border M&A with European clients, whom he had met through his involvement in the International Young Presidents' Organization (IYPO). This clientele comprised a large part of the firm's business in its early years.
In 1985, John Wright and Franklin Wyman, senior associates in the firm, acquired the business through a new company name, O'Conor, Wright Wyman, Inc. and in December 1993, merged with the long established firm of Bowers, Mayer, Whittemore and Company.
Today, O'Conor, Wright Wyman has three skilled professionals, each with many years of experience and in-depth knowledge of many business sectors. Some of our areas of expertise include:
Apparel & Shoes
Consumer Products
Distributors
Energy Service Companies
Finance, Leasing & Insurance
Food
Fluid Processing Equipment
Furniture & Wood Products
Medical Devices
Metals
Office Products
Plastics
Services - Engineering, Consulting, Staffing, Data Processing & Contracting
Software & Electronics
Since our beginnings with Charles O'Conor, the cross-border aspect has lessened but our firm's focus has not wavered - we continue to provide professional advisory assistance in mergers, acquisitions and divestitures to middle market companies in the United States and abroad.